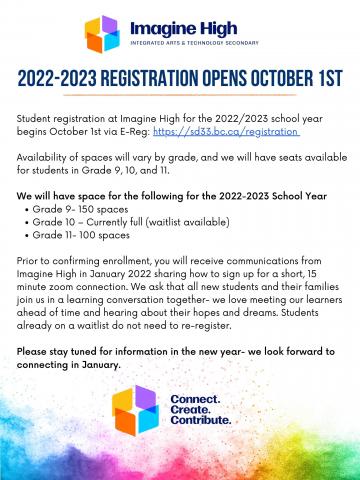 Registration open now for Grade 9-11 for 2022/2023 
https://sd33.bc.ca/registration
Availability of spaces will vary by grade, and we will have seats available for students in Grade 9, 10, and 11.
We will have space for the following for the 2022-2023 School Year
Grade 9- 40 spaces
Grade 10 – Currently full (waitlist available)
Grade 11- 90 spaces
Prior to confirming enrollment, you will receive communications from Imagine High sharing how to sign up for a short, 15 minute zoom connection. We ask that all new students and their families join us in a learning conversation together- we love meeting our learners ahead of time and hearing about their hopes and dreams.
Students already on a waitlist do not need to re-register.
Please stay tuned for information in the new year- looking forward to connecting in January.
About Imagine...
Imagine High Integrated Arts and Technology Secondary will be an innovative and vibrant school community, fostering and celebrating creativity, where students will find meaning and contribute to the community within our school and beyond. The school will boast music, dance and art studios, a high-end theatre, culinary arts spaces, cutting edge technologies and a brand new gymnasium. Aside from the outstanding facility and learning resources, the school will offer an innovative approach to teaching and learning that reflects current research. Students who successfully meet the graduation requirements at Imagine High will be eligible to graduate with the standard BC Dogwood Diploma.  Graduates will be distinguished by their creativity and imagination, ability to collaborate, think critically, and innovate for a hopeful future.
Integrated arts and technology programming of choice will be offered at three school sites in Chilliwack: FG Leary Fine Arts Elementary (K - 5), AD Rundle Middle School (6 – 8 Integrated Arts & Technology Cohort), Imagine High Integrated Arts and Technology (9-12)